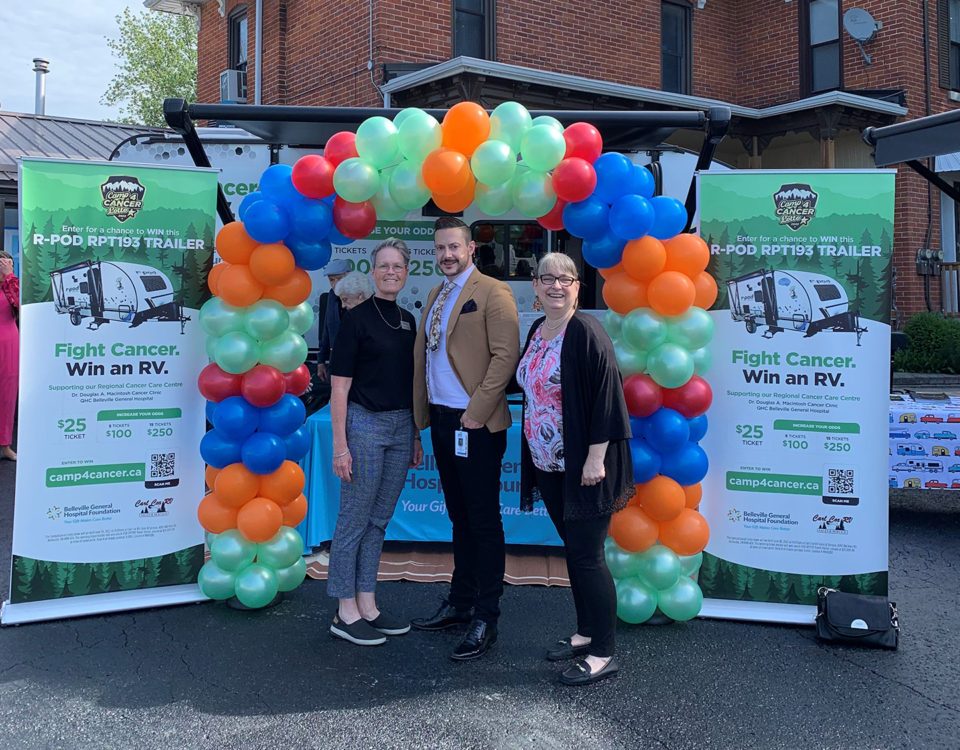 Headlines
Marysville couple the lucky winners of $35,000 Camp4Cancer RV in $140,000 Hospital Super Draw!
City dignitaries, donors and the media joined an enthusiastic crowd at Carl Cox ...
---
City dignitaries, donors and the media joined an enthusiastic crowd at Carl Cox RV this morning as the Belleville General Hospital Foundation held its first Camp4Cancer Super Draw; raising funds for regional oncology services at the hospital's Dr Douglas A. Macintosh Oncology Clinic.
Broadcast live, on site, the initiative first kicked off just 5 months ago, as a follow up to the hugely successful Car4Cancer, that saw local winner Larry Shannon drive away in a brand new Cadillac CT4 Sport valued at $50,000.
Aimed at providing funds for improved oncology services the popular super draws have become a staple part of the hospital foundation's fundraising calendar with 6,900 tickets sold since the Camp4Cancer launch, raising almost $140,000. All the proceeds raised, not only provide essential medical equipment for the regional cancer clinic but will offer access to drugs not traditionally covered by Cancer Care Ontario; helping to save lives.
"We have a strong history of cancer within the family, so we all wanted to help in any way we could, commented Carl Cox RV Sales Manager Catherine Cox-Semenuk. 'Partnering with the BGH Foundation has been a real success story and we are excited about the opportunity to work together again in the future.'
With one in three Canadians now diagnosed with cancer and a high prevalence across Ontario, Belleville General Hospital's three oncologists see patients from across the Quinte Health Care catchment area; stretching from Bancroft to Picton, Brighton to Nappanee.
Dr. Roger Levesque is the Head Medical Oncologist at Quinte Health Care. Dr Levesque says, "When you have cancer, it affects every part of your life, from your health to your relationships with your family to your hopes and dreams."
BGHF Executive Director Steve Cook says, "Since 1979, the Dr. Douglas A. MacIntosh Cancer Fund within BGHF has allowed members of this community to have access to cutting edge treatments earlier, and has given our regional cancer clinic the flexibility to provide the same excellent care as in the larger centers, but right here close to home. The community is making a real difference in purchasing these tickets. Not only do they get to enjoy the excitement of potentially being a winner, they also help to save the lives of our most vulnerable patients.
Congratulations to the following winners:
Main Prize: R-Pod Trailer – Pat & Laurie Gartland of Marysville, Ontario.
Early Bird Prize 2: 1 week stay at Quinte Isle resort – Jamie Kort, Belleville, Ontario.
Early Bird Prize 2: EPeak Electrical Bike – Robert McPherson, Belleville Ontario.
Photo: BGHF staff members in attendance for the Camp4Cancer Draw (left to right) Jennifer McTavish, Community Events Officer; Steve Cook, Executive Director; Carolyn McNall, Graphic Designer.