By saying
I'M IN 
for better health care you are helping us to ensure we have the funds we need to purchase priority medical equipment.
We all know that when you're sick the small details can mean the most. A comfortable bed, warm blankets and wheelchairs can make a huge difference to the patient.
By giving to the Patient Experience Fund, you're saying "I'M IN" for making care better for all patients.
Your gift to priority medical equipment will ensure BGH has the very best equipment to diagnose and treat our loved ones. Best of all, you can choose where you want your support to go.
You can review the Bronze, Silver and Gold giving levels on posters throughout the hospital and in the graphic below the form on this page. Donors who sign-up or renew at each level will be given the corresponding swag for that level. Win even more prizes if you're spotted wearing your I'M IN gear by BGHF staff between October 30th and November 24th.
All I'M IN participants are entered into a draw for a $2,000 Travel Voucher and all participants who INCREASE their donation level are entered into a draw for a $1,ooo Cash Prize. All draws to take place at the end of the "I'M IN" Campaign.
Using the Payroll Deduction form below, submit your info and know that whatever you choose to give and wherever you choose to direct it, your gift will make a difference for patients and staff.
If you'd like to make a one-time donation as a staff member, please use our One-Time Donation form.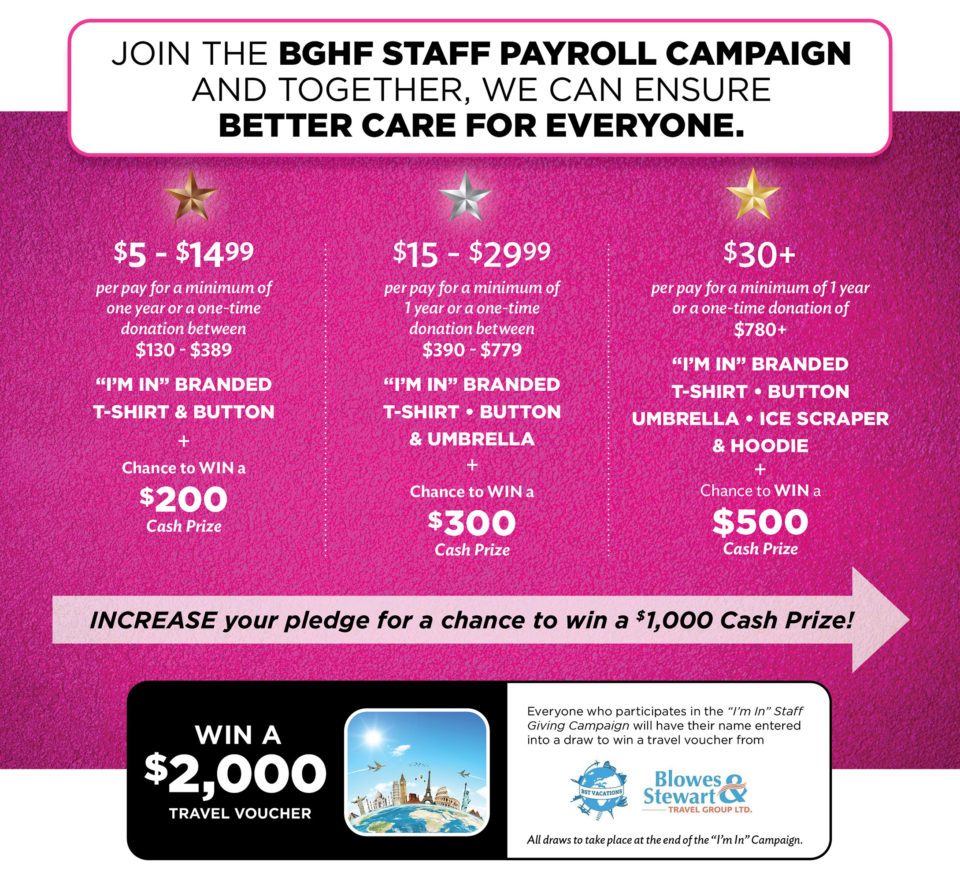 ---
Thank You to Our Generous Sponsors