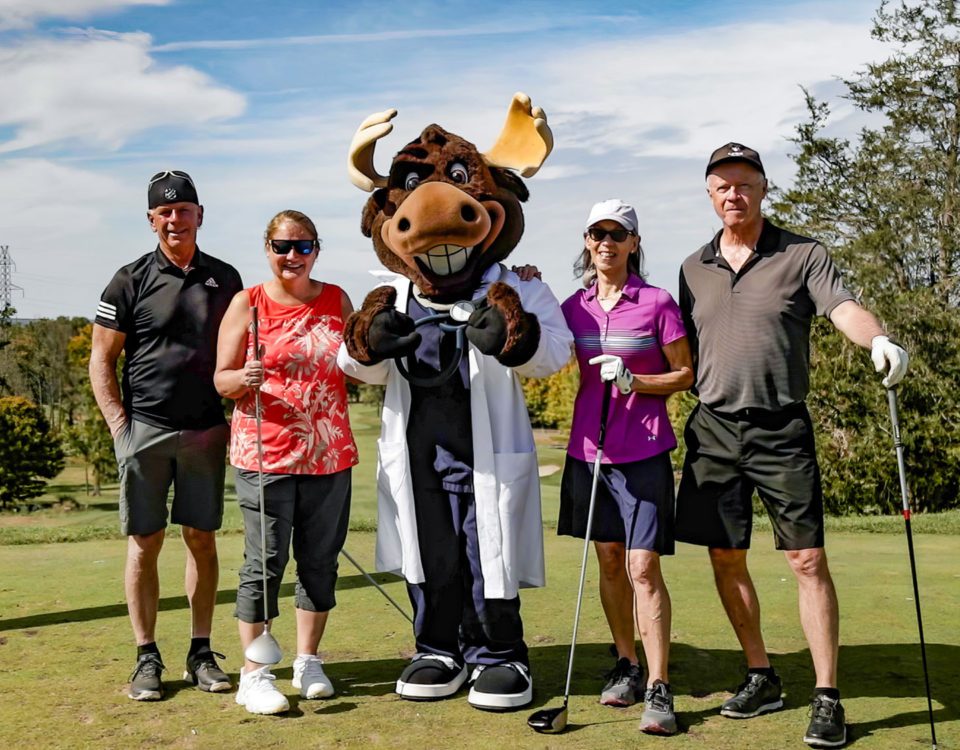 Headlines
A Swing and a Win: BGH Foundation's Fairways for Fractures Golf Tournament Raises $105,000
A record-breaking day!
---
Photo, L-R: Tournament Golfers: Al Lasher, Dr. Tracy Bray, Chair, BGHF Board; Dr. Max the Medical Moose; Heather Smith, Director, BGHF Board; David Smith.
Belleville General Hospital Foundation is thrilled to announce the success of its annual golf tournament, which raised over $105,000 to support the future expansion of the Fracture Clinic at Belleville General Hospital.
The event, held on Thursday, September 28th at Black Bear Ridge, brought together 175 community members, sponsors, and healthcare professionals for a beautiful day of golf, camaraderie, and philanthropy.
"The Fairways for Fractures Golf Tournament has become a highly anticipated, premium event in our community," said Steve Cook, Executive Director, BGHF. "We're beyond thrilled to have broken the $100,000 mark this year. Led by Title Sponsors McDowell's Your Independent Grocer Belleville and Alexander Wilson Architect, this year's event exceeded all expectations. The best part was spending a fantastic day with our enthusiastic golfers, supporters, and volunteers."
Over the past 5 years, the tournament has raised close to $400,000 to support the future capital improvements and development of the Fracture Clinic at BGH.
"The Fracture Clinic is one of the busiest places at BGH, seeing 10,000+ visits each year from people across our region," said Tracy Bray, Board Chair, BGHF. "But It's also one of the most underserved. That's why we're proud to raise funds to help make this space the best it can be and provide the best care for our community. That's only possible with donor support, and after yesterday, we're a big step closer to seeing this project become a reality."
Golfers enjoyed a premium golf experience, including food from Burger Revolution, Montana's and Farmer's Daughter, tipples from All My Friends Beer Co., and plenty of fun activities and competitions throughout the course.
Prizes were awarded across several categories. Winners included:
Winning Foursome: Brock Sills, Kyle Wilkinson, Matt Cooperus and Ben Osborne
Women's Longest Drive: Chelsea Magladry
Men's Longest Drive: Ryan LaPalm
Women's Closest to the Pin: Bernadette McInroy
Men's Closest to the Pin: Jake Valiquette
For more information about the Foundation, please contact Executive Director Steve Cook at scook@qhc.on.ca. To make a donation to support the Fracture Clinic expansion, please visit our donation page.