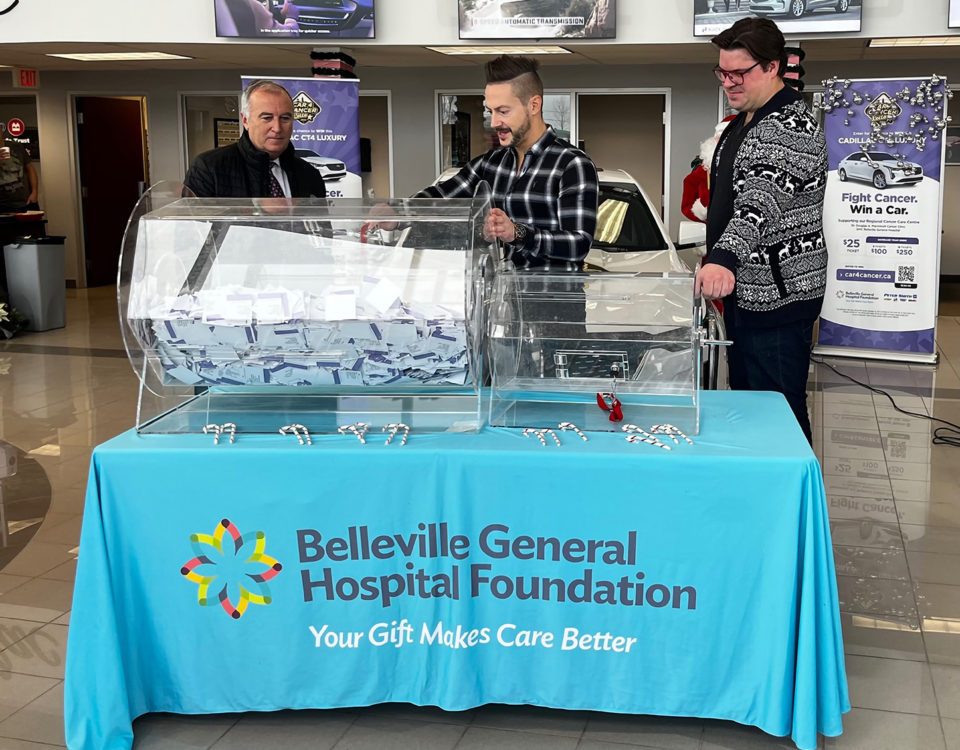 Headlines
Local Cancer Survivor Wins $50,000 Cadillac
Christmas certainly came early for one lucky Brighton resident when hospital fig...
---
Christmas certainly came early for one lucky Brighton resident when hospital figures revealed his fortune as the latest winner in the Belleville General Hospital Foundation Car4Cancer Super Draw.
Gerald Langlois of Brighton was the lucky winner of the Cadillac CT4 Luxury up for grabs in the BGHF Super Draw Lotto in partnership with local car dealer Peter Smith GM. Joining Gerald on the winners list were local Belleville residents Frances Lekes and Charlotte Burgess who scooped the early bird prizes of $1000 and $250 respectively. Dealer Principle Cole Allinger was on hand to congratulate the winners along with Belleville City Mayor Neil Ellis.
Now in its second year, the Super Draw initiative is aimed at raising critical funds for the Dr Douglas A. Macintosh Cancer Clinic; Quinte Health's regional cancer center based at the Belleville General Hospital site. One in three Canadians are diagnosed with cancer in their lifetime. 'In our community, regardless of where you live, if you or a loved one have cancer you will most likely be visiting the Oncology Department at Belleville General Hospital,' said Peter Smith Dealer Principle Cole Allinger.
With three successful Lotto draws now under their belt, the Foundation appears set to develop the platform further, signaling plans to deliver 3 largescale raffle initiatives next year; hoping to generate half a million dollars. BGHF Executive Director Steven Cook acknowledged support from the wider community while adding, 'Our partnership with Peter Smith GM continues to go from strength to strength, with over 6,100 tickets sold this time around, amassing more than $124,000 towards local cancer care; right here in our community.' To date the three Super Draw initiatives have raised over $400,000 in the past 18 months.
The Dr Douglas A. Macintosh Fund has been in existence since 1979, offering members of the community the chance to have access to cutting edge treatments earlier, and has given Belleville General Hospital's cancer clinic the flexibility to provide the same excellent care as in the larger centers, close to home.
Plans are afoot for a Camp4Cancer RV Super Draw return in January 2023, with the Foundation teaming up with local dealers Carl Cox RV, where on lucky winner will take home a brand new Forest River Trailer worth $40,000.