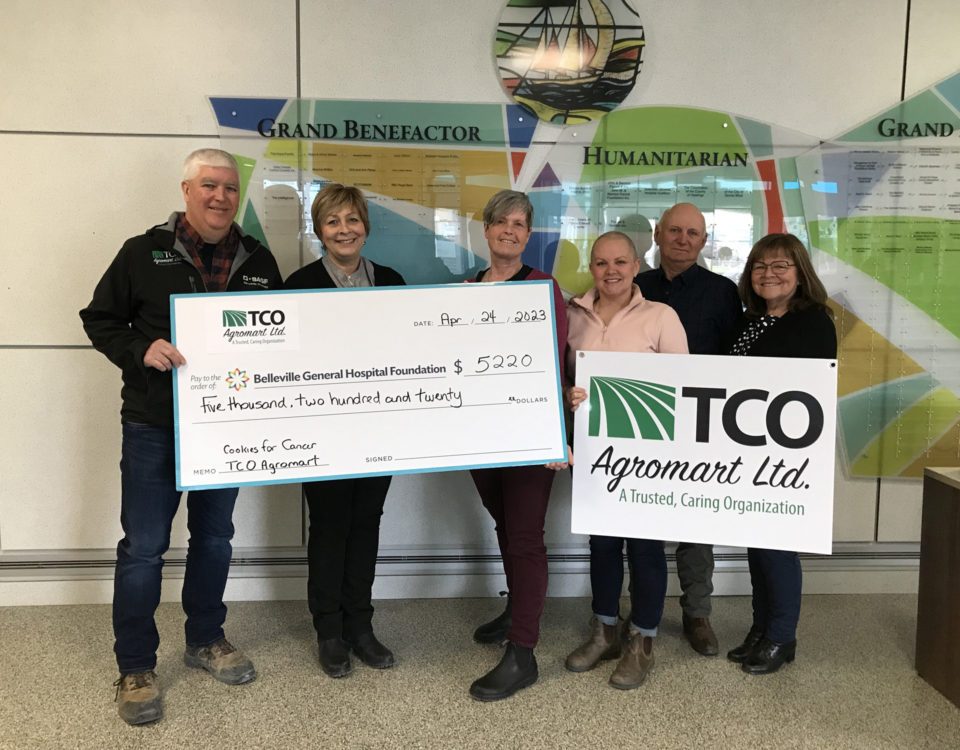 Donor Stories
A Desire to Support a Coworker Results in a Successful Cookie Fundraiser
When bad news struck Sarah Wilson's family again, her coworkers at TCO Agromar...
---
When bad news struck Sarah Wilson's family again, her coworkers at TCO Agromart Ltd. were inspired to find a way to help. Little did Sandra O'Neill know how far her original idea of baking cookies to sell for a donation to Cancer Care at Belleville General Hospital would take them!
Sandra and Terry O'Neill worked with their business partners at TCO, including Patrick O'Neill, Karen and Dexter Harder and Larry Hutchinson, to share resources, volunteer shifts and even kitchen space. Their spontaneous 'Cookies for Cancer' fundraiser rose to unexpected heights selling approximately 1000 cookies in a few short weeks. Baked from scratch, every aspect of this endeavour was donated — including the ingredients, the boxes to package the cookies, the pickup and drop off of cookies and all the baking and subsequent dishwashing!
Thanks to their customers, their family and friends and of course Sarah's coworkers, the labour of love raised $5220 for the Belleville General Hospital Oncology Department. Even while undergoing treatment at the Dr. Douglas A. MacIntosh Cancer Clinic, Sarah was moved to bake a few batches herself, with her kids helping as cookie tasters of course.
This stirring tribute in support of a coworker reminds us it is through our relationships that we get the support we need to tackle some of the greatest challenges. BGHF is very grateful to have positive relationships with our many donors. Every donation helps to improve patient outcomes for our entire region. Thank you to everyone who helped with this fundraiser!
Main Photo (left to right): Terry O'Neill and Sandra O'Neill, Jennifer McTavish, Events Officer with BGHF, Sarah Wilson, Dexter Harder, Karen Harder.
Additional photos of the teams efforts, below: