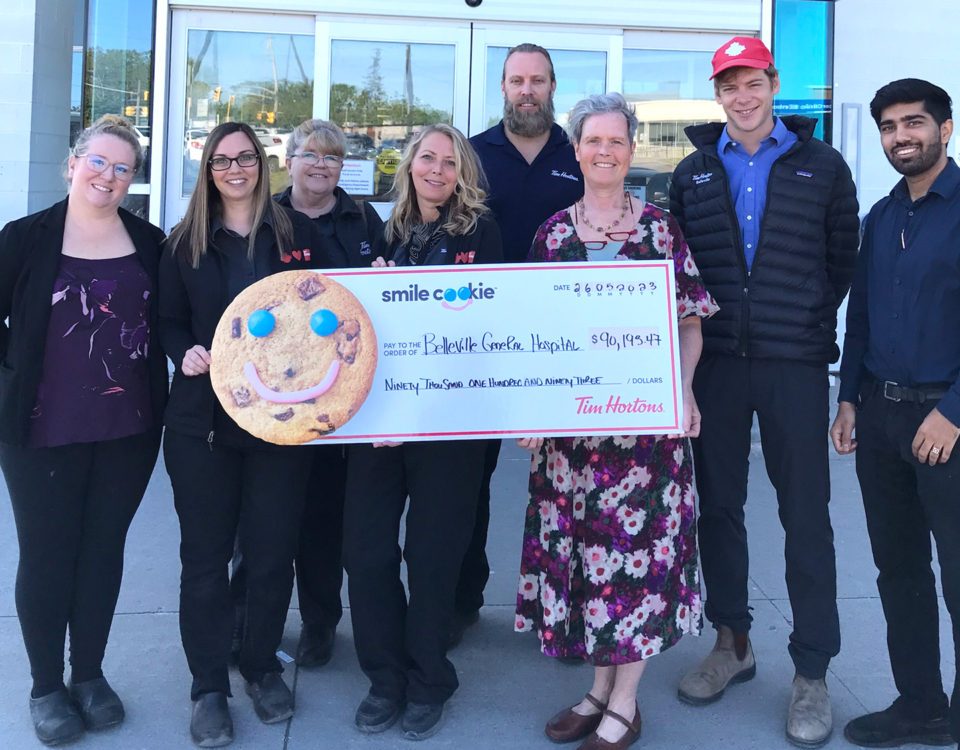 Headlines
Tim Hortons Smile Cookie Campaign results are in for Belleville
A record breaking $90,193.47 was raised from the 2023 Smile Cookie Campaign to s...
---
A record breaking $90,193.47 was raised from the 2023 Smile Cookie Campaign to support Belleville General Hospital Foundation.
It's ear-to-ear smiles at the news that Tim Hortons' 2023 Smile Cookie campaign raised a record-breaking $90,193.47 for Belleville General Hospital Foundation.
"We are incredibly grateful to everyone who bought a cookie, and local Tim Hortons restaurant owners Mark and Mary Hanley, Jamie Smid, Rachana and Amit Seth, and Compass One," said Steve Cook, Executive Director, BGHF. "At some point, we'll all need the hospital. It's a big reason to smile knowing Belleville General Hospital will have the best possible equipment for you when you need it, because of wonderful supporters like Tim Hortons."
Funds will help purchase a new ultrasound machine, which will be used across multiple departments at Belleville General Hospital, performing thousands of scans every year to accurately diagnose and treat a range of medical conditions.
Earlier this month, Tim Hortons announced that $19.7 million was raised nationally, through the sales of Smile Cookies this year, supporting over 600 charities and community groups across Canada and in the United States.
"This record-breaking success wouldn't have been possible without every Tim Hortons team member, guest, volunteer and charity partner who took part," said Christine Beaudrie, Regional Marketing Manager, Tim Hortons. "On behalf of the Belleville restaurant owners, thank you to everyone who shared a smile. Congratulations to BGHF, we're proud to know our campaign will help make health care better for people across your region."
"When I heard the results, my first response was pride in our community," shared Jennifer McTavish, Community Events Officer, BGHF. "Our volunteers came out in a big way, giving 140+ hours of their time. Also, local businesses including Hanon Systems, Belmont Long Term Care, Sofina Foods, Ekort Group, Black Bear Ridge, McDowell's YIG and Canadian Tire, who stepped up with bulk orders to truly push us over the line."
Photo: Belleville Tim Hortons owners and representatives with Belleville General Hosptial Foundation. L-R: Rachel Bowers, Compass One; Jessi Couperus, Hanley Corp; Kim Ongo, Saisethesons Hospitality; Lori Mifflin, Hanley Corp; Jamie Smid, Owner; Jennifer McTavish, Belleville General Hospital Foundation; Griffin Hanley, Hanley Corp; Ankush Kaura, Saisethesons Hospitality.