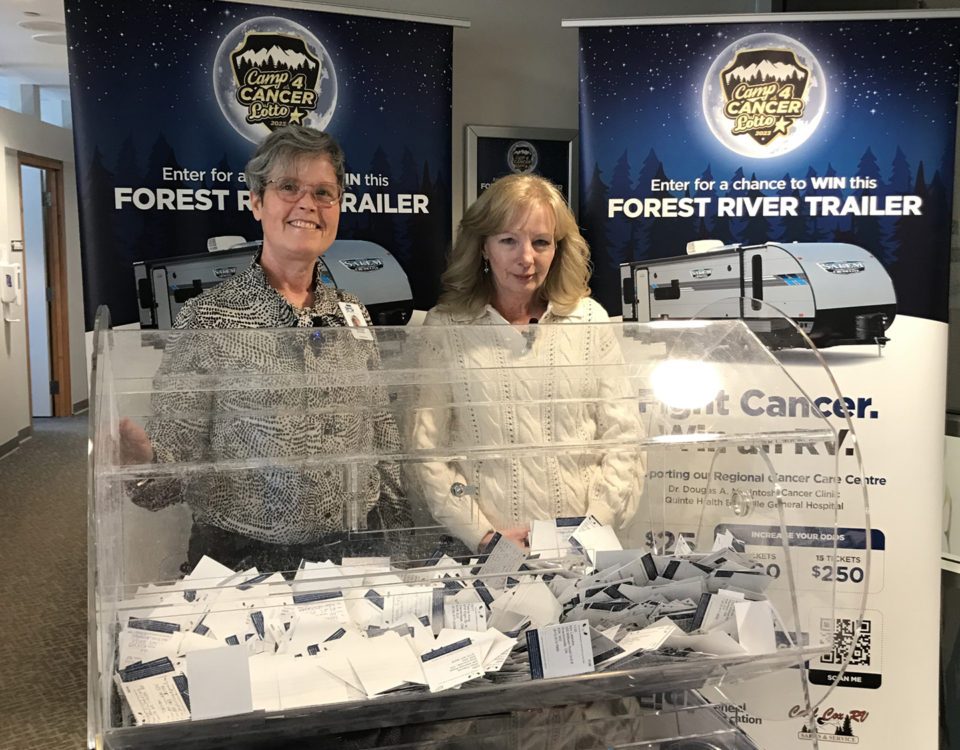 Headlines
Our Third Early Bird Draw in our Camp4Cancer 2023 Lotto Held Today!
Today Belleville General Hospital Foundation had another winner in the 2023 Camp...
---
Today Belleville General Hospital Foundation had another winner in the 2023 Camp4Cancer Early Bird Bonus Draws. Winner Jason Byers from Picton, Ontario will be receiving a cheque for $1000 in the third of four early bird draws.
The grand prize draw will take place at Carl Cox RV in April for a brand new Forest River Salem RV, valued at over $45000. Jason was happy to hear that he won the $1000 Early Bird Prize and vows to "make the most of it this summer" if he is the winner of the Forest River RV draw.
The Belleville General Hospital Foundation Camp4Cancer Lottery, in partnership with local RV dealer Carl Cox RV, is the first of three super draws in 2023. All funds raised through these important fundraisers will go directly to equipment purchases and drug therapy funding at the BGH Dr Douglas A. MacIntosh Cancer Clinic. The experts at BGH treat cancer patients with a combination of surgery, medication, chemotherapy or biotherapy, with the goal of increasing chances of remission and to extend and improve quality of life.
BGHF is hoping to generate over half a million dollars to support Cancer Care in the region across all of the three super lotto initiatives being held in 2023. Executive Director Steven Cook says "it's great to see winners enjoying our super draws from across the province which highlights the popularity of this form of fundraising. With over 3300 tickets sold so far, when we look at ticket sales by city, we see a loyal local following, with 17 of the top 20 cities being in the Quinte region. "
You could be the next lucky person to win! Tickets purchased now will be included in one more Camp for Cancer Early Bird Bonus Draws of $1000 as well as the Grand Prize Draw.  Tickets can be purchased online at  www.camp4cancer.ca. In person ticket sales are available at BGHF, Carl Cox RV Belleville as well as: Artisans on 37 in Corbyville; Family Dental Centre in Belleville and Frankford; Dugout Sports Bar; Jenny Cox Photography; McDowell's YIG; Skin Beautiful Medispa; Popeye's Supplements; The Brake Room; Wilson's Specialized Tune Up; The Cookie Jar; Be Prepared First Aid Training Belleville; Back40 Powersports Stirling; Barrett's Satellite Solutions Stirling; and Maple Dale Cheese Plainfield. Tickets are $25 each, or 5 for $100 or 15 for $250. If you have already purchased tickets: thank you for helping to keep Cancer Care close to home for patients in the Quinte Region.
Pictured in the photo: Jennifer McTavish, Community Events Officer, BGHF and Lori Cox of Carl Cox RV Sales and Service.