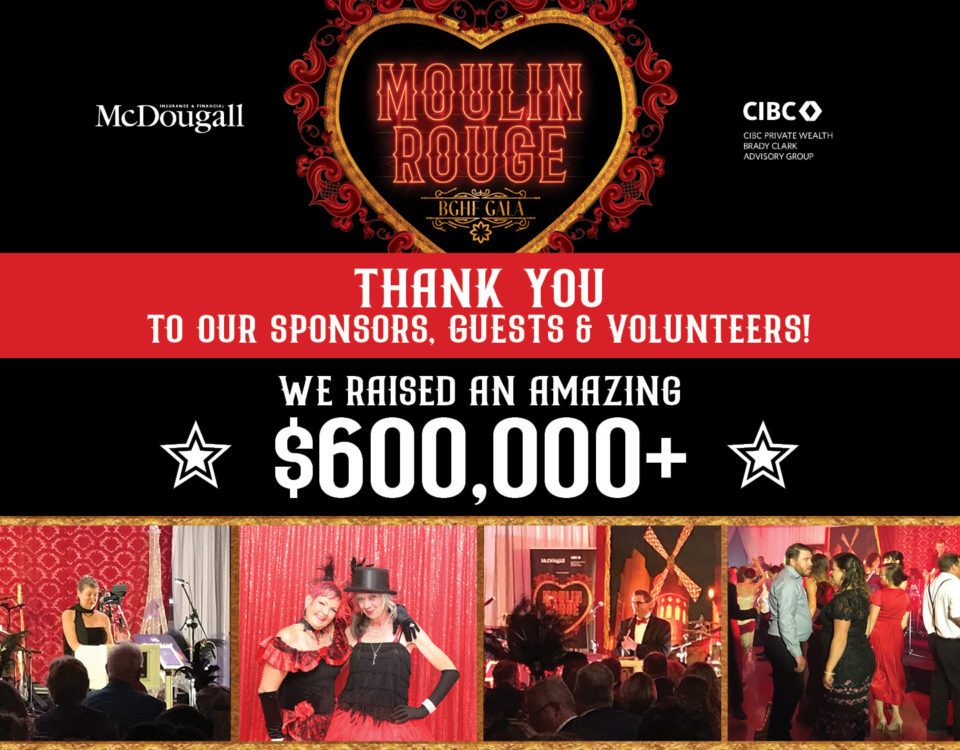 Headlines
Ooh La La! BGH Foundation raises $600,000+ at Moulin Rouge Gala
In a night filled with glamour, entertainment and unwavering philanthropy, an as...
---
In a night filled with glamour, entertainment and unwavering philanthropy, an astounding $600,000 was raised to benefit advanced diagnostics and cancer care at Quinte Health, Belleville General Hospital.
The enchanting world of Moulin Rouge came to life in Belleville this Saturday night as community leaders, dignitaries and donors gathered to raise over $600,000 for their regional hospital.
The Foundation's 24th annual Gala, supported by title sponsors McDougall Insurance & Financial and CIBC Wood Gundy Brady Clark Advisory, transported 250 guests to the iconic Parisian cabaret. The evening kicked off with a "Lady Marmalade" signature cocktail, followed by a three-course meal, lively auction hosted by Boyd Sullivan and world-class entertainment from URequest Live – an innovative and interactive 10-piece show band.
The event's most powerful moment was the Fund-a-Need segment – when beloved local businesswomen and philanthropist, Kristin Crowe shared her own journey with cancer and care at BGH in a moving presentation. Following a standing ovation for Kristin, host Mark Philbin challenged the crowd to make cancer care the best it possibly can be for our community. The audience responded with enthusiasm – raising almost $400,000 in 15 minutes!
"The generosity and participation of every single person in the room is what made Saturday truly magical," said Steve Cook, Executive Director, BGHF. "I am especially grateful to Kristin, for sharing her story, to those who gave so generously in response, and to all our incredible event sponsors. With rates of cancer rising, and the need for cutting edge technology greater than ever, we need bold commitments of support and that's exactly what we got on Saturday night."
Providing cancer treatment at BGH takes care, compassion and connection spanning many departments, including the ER, diagnostic imaging, inpatient units, labs, pharmacy and surgery. All funds raised from BGHF's Moulin Rouge Gala will help ensure these teams have the equipment and resources they need to care for our region.