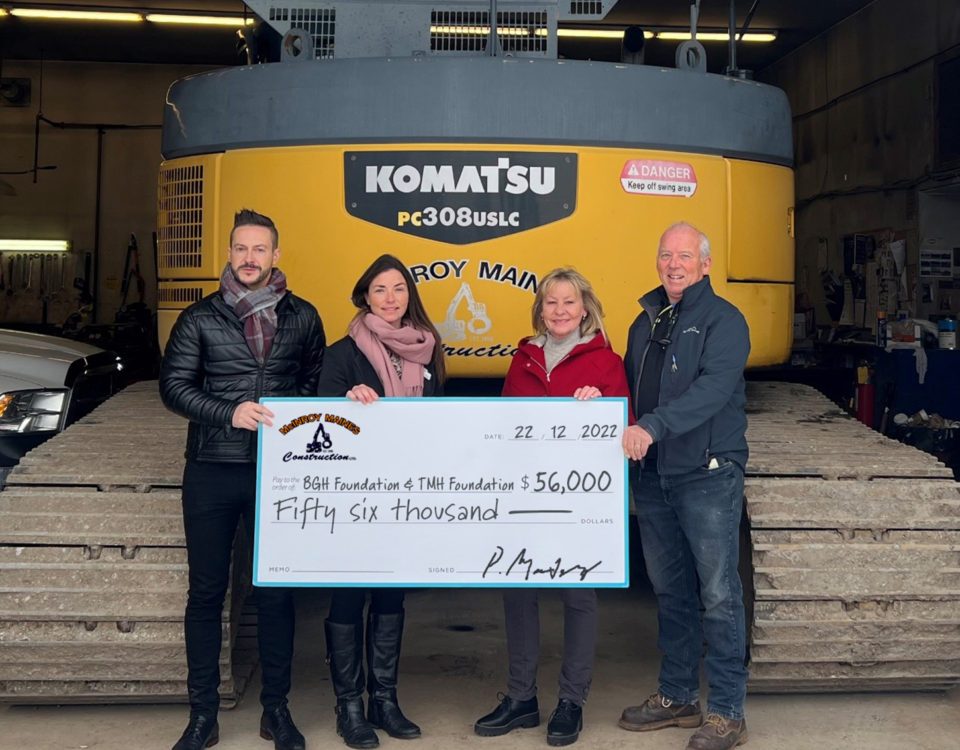 Donor Stories
McInroy-Maines Construction Donates a $56,000 Christmas Gift to Local Hospitals
Christmas came early this year for local hospitals, thanks to the generosity of ...
---
Christmas came early this year for local hospitals, thanks to the generosity of McInroy-Maines Construction, who made a $56,000 gift to be shared by Belleville General Hospital Foundation (BGHF) and Trenton Memorial Hospital Foundation (TMHF). Each Foundation will receive $28,000 for their priority medical equipment needs
"Good health is one of life's greatest gifts," said Peter McInroy, Owner, McInroy-Manes Construction, "so we're proud to support our local hospitals, and help give them the resources they need to share that gift with our employees, families, friends, and neighbours in the community."
This donation continues McInroy-Maines Construction's longstanding support of BGHF and TMHF and the $56,000 amount is a nod to 2022 being their 56th year in business.
McInroy-Maines Construction has proudly provided residential and commercial construction services since 1966.  Specializing in site development, their work includes road building, sewer laterals, excavating, rock removal and water services. They also offer equipment rentals on dozers, backhoes, excavators and trucks. With 50+ years' experience, their professionalism, workmanship and commitment to staying on budget is trusted in the community.
"We are delighted to be partnering once again with McInroy-Maines Construction to improve healthcare and save thousands of lives who count on the services at Trenton Memorial Hospital," said Wendy Warner, Executive Director, TMHF. "They truly are great corporate community ambassadors."
"Last week, we were delighted to welcome Peter and Bernadette on a tour of our newly expanded ICU," said Steve Cook. "This week, I'm thrilled to receive this incredible gift, which will support priority equipment for the space, to help care for some of our most vulnerable patients. This is a gift that will keep on giving."
To support your local hospital this holiday season, or beyond, please contact Steve at 343-263-3541 or Wendy at 613-391-7792.
Photo: right to left are, Peter and Bernadette McInroy, Lindsay Butcher Dodds, Operations and Community Impact Specialist with TMHF, and Steve Cook, Executive Director of BGHF.