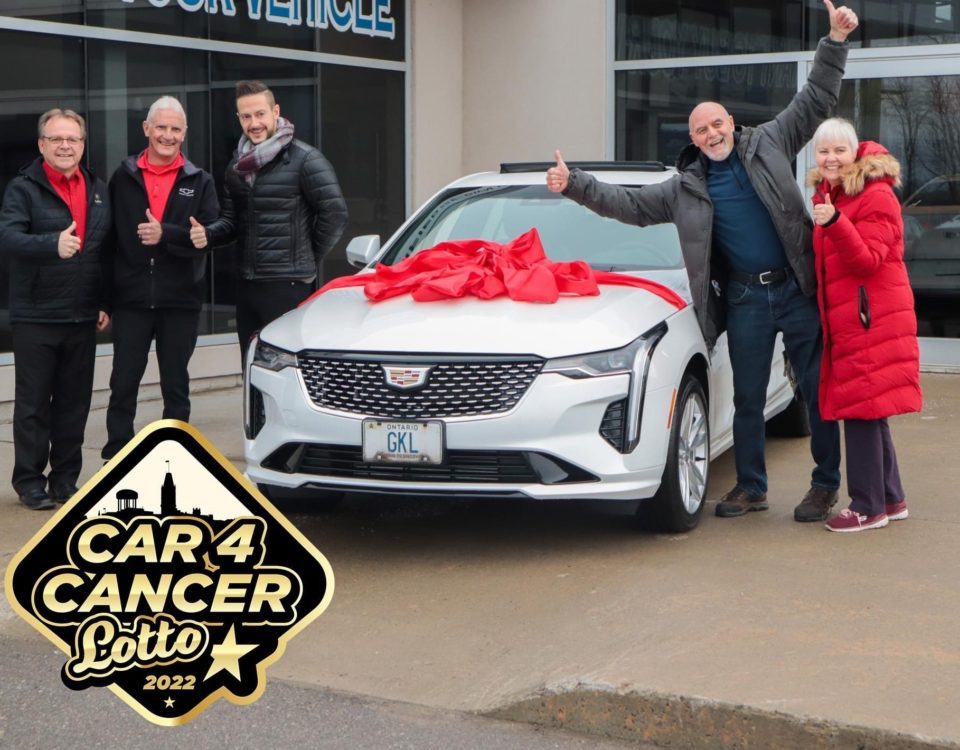 Headlines
Local cancer survivor collects Cadillac
The recent success of Car4Cancer for the Belleville General Hospital Foundation ...
---
The recent success of Car4Cancer for the Belleville General Hospital Foundation gave oncologists at BGH's cancer center reason to celebrate. Ticket sales raised over $124,000 for the Dr Douglas Macintosh Oncology Clinic, with Brighton resident Gerald Langlois announced as the $50,000 Cadillac winner.
Organizers, were thrilled to accompany Gerald and partner Heather to the Peter Smith GM dealership last week to thank the couple for their support and hand over the keys to the brand new vehicle.
"What a way to end the year!" gasped Gerald.
As a cancer survivor himself, recently celebrating his fifth year in remission, the lucky winner purchased a ticket whilst shopping for a vehicle earlier on in the year; at the Peter Smith GM dealership. "I'm fortunate that I have received exceptional healthcare in recent years, so this is a truly great cause," explained Gerald. "Cancer is something that touches all of us, so it's a very personal thing for me."
With one in three Canadians diagnosed with cancer in their lifetime Belleville General Hospital acts as a regional oncology center, providing lifesaving treatment across the entire Quinte Health Catchment. "We have really stepped up our efforts to support this important program here at BGH in recent years," explained BGHF Executive Director Steven Cook. "The Lotto Super Draw initiatives continue to attract a substantial following and we have plans to roll out 3 Super Draws in 2023, hoping to generate over half a million dollars."
This week sees the launch of the first 2023 Super Draw, in partnership with local RV dealer Carl Cox RV. Tickets go on sale tomorrow for a chance to win a brand new Forest River Salem RV, valued at over $40,000. Tickets can be purchased online at www.camp4cancer.ca. Tickets are $25 each, or 5 for $100 or 15 for $250. The main draw will take place on Friday 28th April at 10:00am. Purchasers are encouraged to buy their tickets early, for the opportunity to be entered into an additional 4 bonus early bird draws.