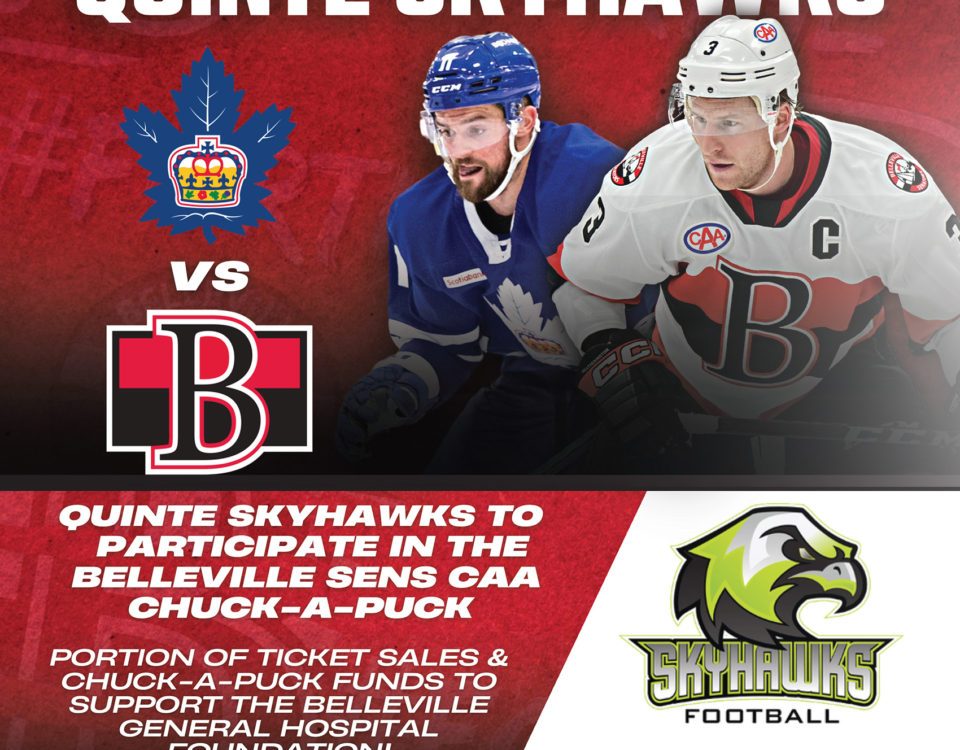 Chuck-a-Puck Fundraiser at BSens Game
April 1, 2023 at the CAA Arena
Host: Quinte Skyhawks Football
---
This is no April Fools joke. BGHF has teamed up with No Limits Quinte Skyhawks Football, to host a unique Chuck-a-Puck event during an upcoming Belleville Senators game. We invite you to come out, have fun and support a great cause!
Come cheer on the BSens in our very own 'Battle of Ontario' when the Belleville Senators play the Toronto Marlies at the CAA Arena. Tickets are just $25 each. When you buy your tickets early, and through THIS special link, BGHF_Skyhawks chuckapuck Bsens game a portion of ticket sales goes towards Belleville General Hospital Foundation.
At the game, bags of pucks can be purchased: $10 gets you five pucks, and $20 gets you 20 pucks. 100% of the proceeds from the sale of these Chuck-a-Puck bags goes towards BGHF and Quinte Skyhawks. During the second intermission, attendees are invited to throw their pre-numbered pucks onto the ice. The owners of the three pucks that land closest to Centre Ice will win four CAA Suite tickets to a future BSens game!
No Limits Quinte Skyhawks Football is open to boys and girls, with teams playing at all levels. Beginner, advanced and adaptive players can enjoy learning how to play and advance in football. Reach out through info@nolimitsyouth.ca for more information.
Special Ticket Link for This Event: BUY TICKETS NOW!
---