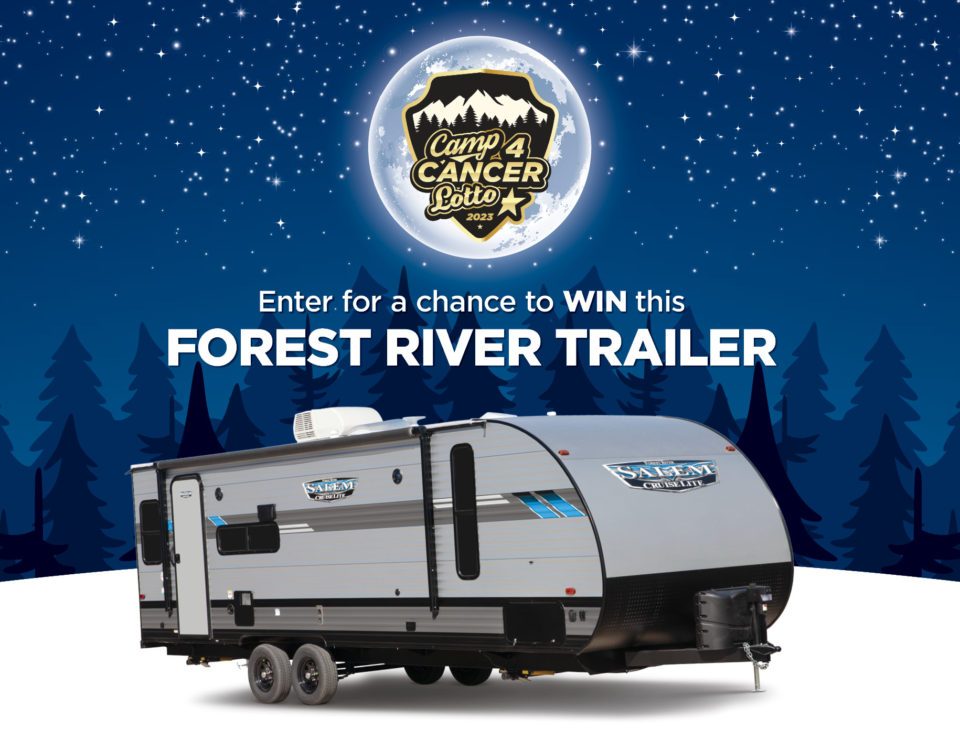 Camp4Cancer
RV Ticket Deadline: Midnight, April 25; Draw date: April 28 at 10:00 am
Host: BGHF
---
We have teamed up with Carl Cox RV Sales & Service again this year to launch our 2023 Camp4Cancer Lotto. The prize is a Forest River Salem Cruise Travel Trailer valued at over $45,000!  the 2022 Camp4Cancer Lotto raised $140,000 for local cancer care, and we hope to beat that total this year. We invite you to purchase tickets for the 2023 Camp4Cancer Lottery, in support of the Dr. Douglas A. MacIntosh Cancer Clinic at Belleville General Hospital.
This year we have a total of four (4) Early Bird Draws of $1000 each. NEW THIS YEAR: Early Bird Draws now take place the week following each Early Bird Deadline! That means we will have draws for $1000 every month from January to April.
Tickets are only $25 each. Increase your odds and buy 5 tickets for $100, or 15 tickets for $250. There are only 9,000 tickets available — get yours today!
IMPORTANT DATES:
Early Bird #1 Deadline: Thursday, January 26 at 11:59 pm
EB #1 Winner Draw & Announcement: Tuesday, January 31 at 11 am
Early Bird #2 Deadline: Thursday, February 16 at 11:59 am
EB #2 Winner Draw & Announcement: Tuesday, February 21 at 11 am
Early Bird #3 Deadline: March 16 at 11:59 pm
EB #3 Winner Draw & Announcement: Tuesday, March 21 at 11 am
Early Bird #4 Deadline: Thursday, April 6 at 11:59 pm
EB #4 Winner Draw & Announcement: : Thursday, April 13 at 11 am
Grand Prize:
Forest River RV Prize Draw Deadline: Tuesday, April 25 at 11:59 pm
Forest River RV Prize Draw Winner Draw & Announcement: Friday, April 28 at 10:00 am
ENTER TO WIN at Camp4Cancer.ca
---