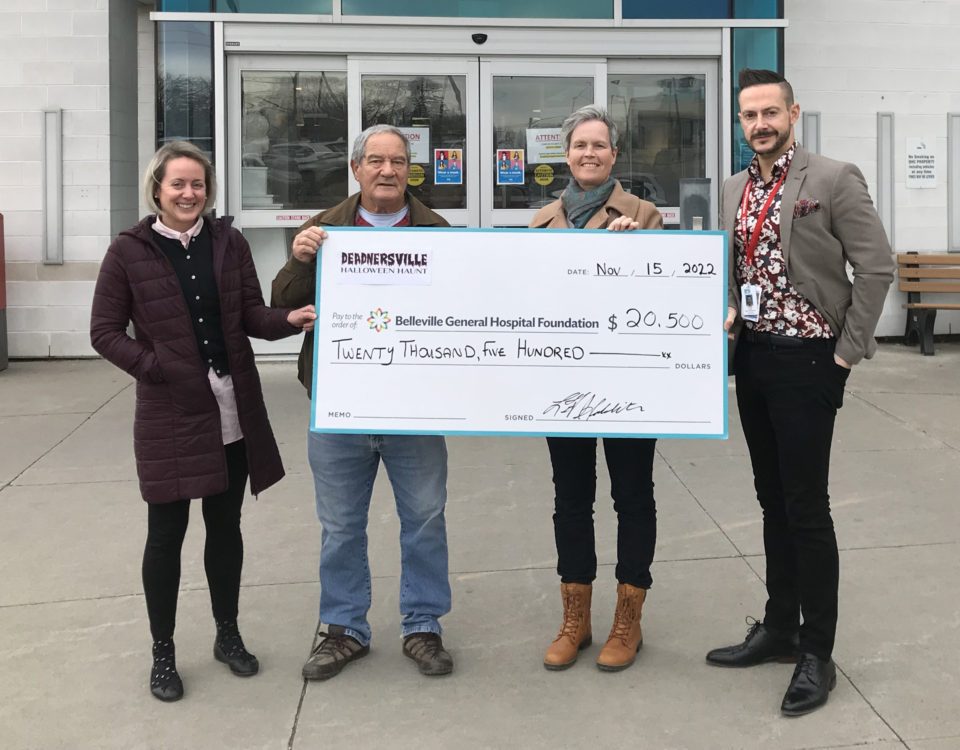 Donor Stories
Deadnersville Halloween Haunt Raises Record Amount for 2022
Thanks to a tremendous community turnout to the annual Halloween Haunt, Deadners...
---
Thanks to a tremendous community turnout to the annual Halloween Haunt, Deadnersville 2022 shattered previous years' records in both visitor numbers and donations received for Belleville General Hospital Foundation. While Lorne Holditch is still putting away the displays from this year's show, he took the time to drop by the Foundation offices last week to donate $20,500 collected from visitors and supporters of his popular Halloween attraction in Prince Edward County.
Not only does Lorne personally contribute to the final amount, he purchases thousands of dollars in animatronic equipment every year to ensure each display is new and scary for his visitors. This year, with 140 feet of covered and decorated canopies, plus several 12 foot animatronic props around the property, Lorne and his team welcomed over 12,000 people between October 7th and October 31st.
In 2019, when his wife Sheila passed away, Lorne had already been ramping up their annual display of Halloween decorations, and in her memory he has made it bigger and better year after year. Steve Cook, Executive Director of the BGH Foundation, commented, 'What a smashing success this event is, and we cannot thank Lorne and his team enough for their hard work to support Belleville General Hospital.' Already planning for 2023, and finding room to store his new "day after Halloween" purchases, Lorne Holditch has cumulatively donated more than $43,200 since 2018 to support his community hospital. Phantasmic!
Photo, from left to right: Erin Hewitson, Major Gifts Officer with BGHF; Lorne Holdich, Creator of Deadnersville; Jennifer McTavish, Events Officer with BGHF; and Steven Cook, Executive Director of BGHF.