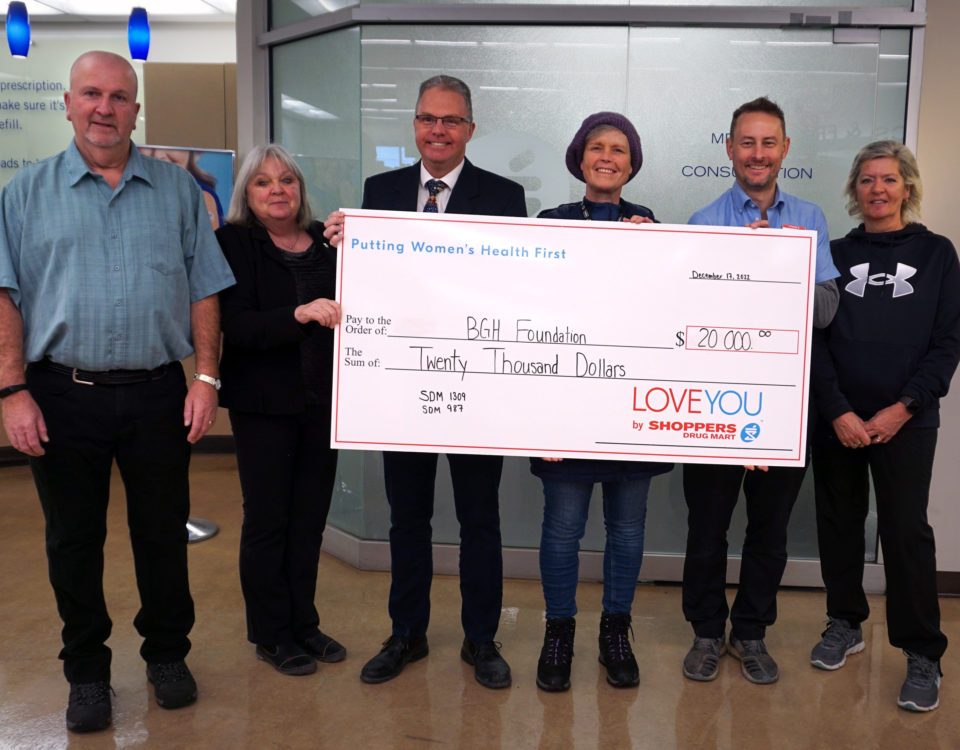 Donor Stories
BGH Foundation Receives Generous Donation from Shoppers Drug Mart
The Belleville General Hospital Foundation is pleased to accept a generous donat...
---
The Belleville General Hospital Foundation is pleased to accept a generous donation of $20,000 from Shoppers Drug Mart in Belleville. Wynand Bekker, owner and pharmacist, with representatives from his Shoppers Drug Mart stores at Dundas Street East and Sidney Street, presented a cheque with all funds directed to the Oncology Department at BGH. Said Wynand, "The staff are passionate about giving to cancer, many of them have personal family stories. This donation really represents the whole community."
The funds are collected through two main initiatives, the annual community ball tournament, which is in its eighth year, and had 12 teams participating and an annual yard sale. Staff teams at each location work throughout the year organizing the events, collecting prizes and community donations. For 2022, their efforts raised $15,000 which was then topped up to $20,000 by Shoppers Drug Mart head office. Including the 2022 donation, the total amount raised comes to $140,000 since 2013.
BGHF Executive Director Steven Cook commented, "As a previous member of the Belleville General Hospital Foundation Board, Wynand understands the critical role that local businesses play in our fundraising efforts each year. The recent expansion of the oncology site at BGH is testament to the growing role the hospital plays in addressing cancer care for patients across the region."
With over 19,000 cancer care appointments at Belleville General Hospital's regional cancer clinic annually, this level of support from Shoppers Drug Mart is vital. Funds will be directed to the purchase of essential equipment used in the diagnosis of cancer, while also offering hope to patients requiring lifesaving drugs from the Dr Douglas A. Macintosh Oncology fund.
Photo, from Left to Right: Murray Lefebvre, Janet Holden, Wynand Bekker, Jennifer McTavish, Events Officer with BGHF, Shawn MacLeish, and Janice Sager.