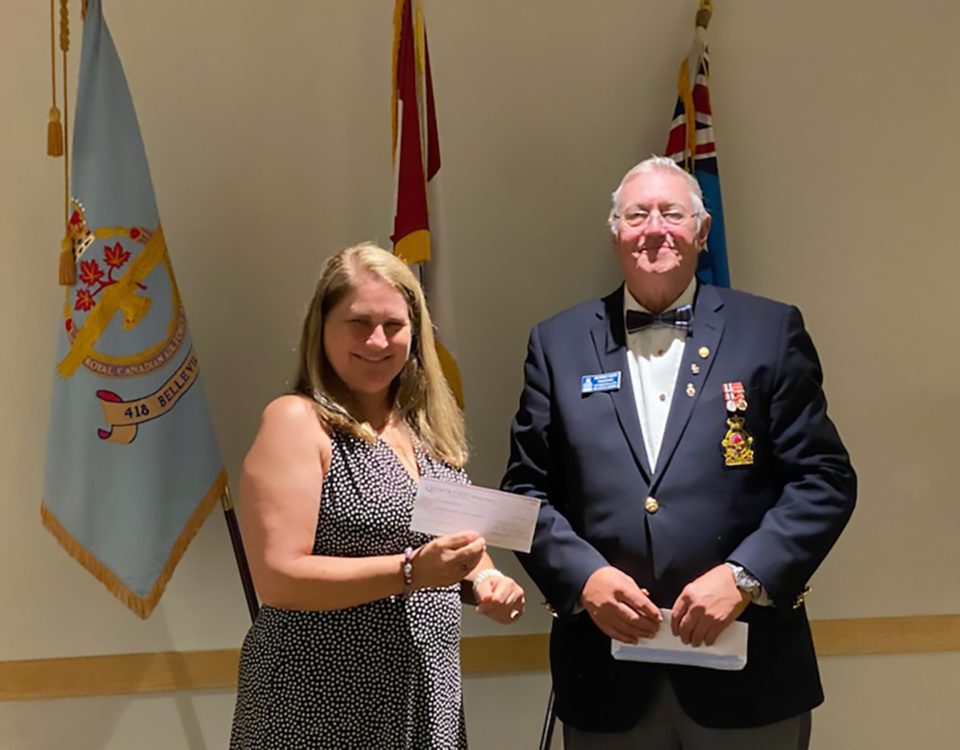 Donor Stories
BGH Foundation flying high thanks to 418 Belleville Wing's generosity
418 Wing celebrates retirement and makes a $10,000 donation to support critical ...
---
418 Wing celebrates retirement and makes a $10,000 donation to support critical equipment needs at Belleville General Hospital.
Friday, 23 June, marked the end of an era with the retirement of 418 Belleville Wing, Air Force Association of Canada. Over dinner at Sans Souci, invited guests celebrated the organization's rich 74-year history and enjoyed special presentations, including a major donation to Belleville General Hospital Foundation.
"This is a very special evening for our Wing," said Murray Hope, Chairman, 418 Wing. "Our organization has a deep tradition of supporting the community, so we're very proud to make this parting gift to Belleville General Hospital Foundation, to help keep our local hospital strong."
Dr. Tracy Bray, Chair, Belleville General Hospital Foundation, was in attendance to accept the donation, which brings 418 Wing's lifetime support to $21,000.
"I'm honoured and grateful to be part of this evening and 418 Wing's wonderful act of generosity," said Dr. Bray. "Each Member truly embodies what it means to serve. This may be the organization's final year, but their legacy will live on through the new equipment we will purchase, and the thousands of lives it will touch."
The connection to Belleville General Hospital runs deep for 418 Wing Members. In addition to financial support, many are also long-time volunteers at the hospital, including 103-year-old Marcella Lake, who was in attendance Friday evening.
"BGH is the immediate hospital for thousands of veterans and their families," said Mr Hope. "It's where we turn to for care, so we try to help in every way we can. I know that commitment will continue."
The donation will be directed to BGHF's Be Well Campaign, which aims to raise $20M for critical regional services at Quinte Health, Belleville General Hospital including Oncology, Nuclear Medicine, the Fracture Clinic, and priority equipment purchases. BGH serves as the center of important regional services for more than 190,000 patients, from Brighton to Napanee, Bancroft to Picton.
To learn more about the Be Well Campaign visit Our Campaign Page. To make a gift, contact Erin Hewitson, Major Gifts Officer, BGHF, 613 969 7400 ext. 2103.